Small kitchens: how to survive in minimal space
Although we would all like to enjoy a spacious and well-organised kitchen, with plenty of cupboards to keep everything in order, an island or breakfast bar where we can enjoy family life or get-togethers with friends, the reality is very different. Most people do not have the space to have that kitchen that we love from the movies, we simply have to adapt.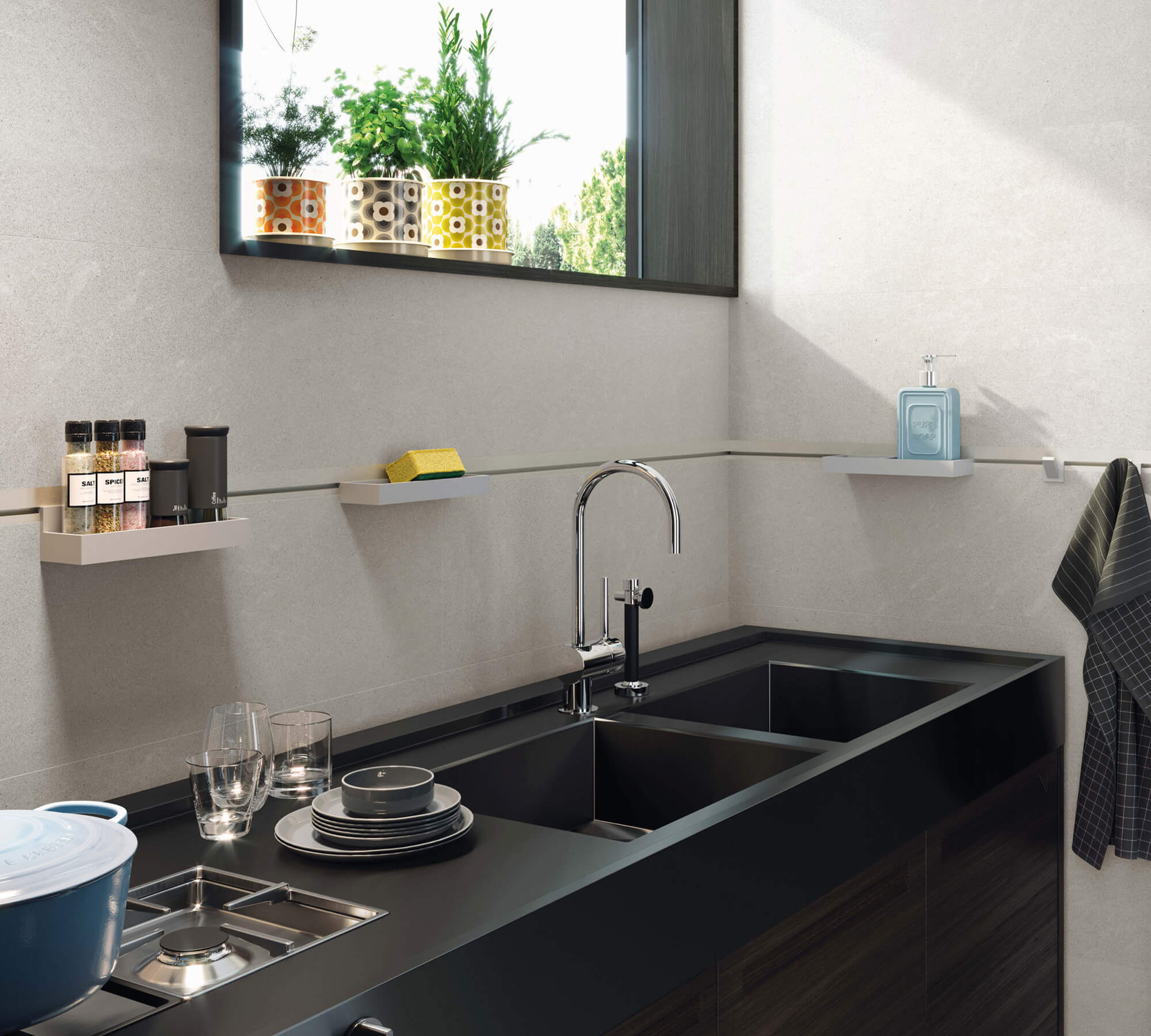 How to make the most of the space in a kitchen?
To make the most of even the smallest space in small kitchens, you can use some tips from decorators and interior designers:
Plan the space well.
Use glass in display cabinets, doors or walls, it creates lighter spaces and at the same time it is very decorative.
Choose light-coloured wall and floor coverings to give a feeling of spaciousness and cleanliness.
Glossy finishes will amplify the light.
Opt for a more minimalist style with straight-lined furniture in polished, metallic or lacquered finishes.
Avoid handles or protruding objects, as they will complicate passageways and mobility.
Open up the kitchen to the rest of the house by eliminating visual barriers.
Decoration and ideas for small kitchens: the space challenge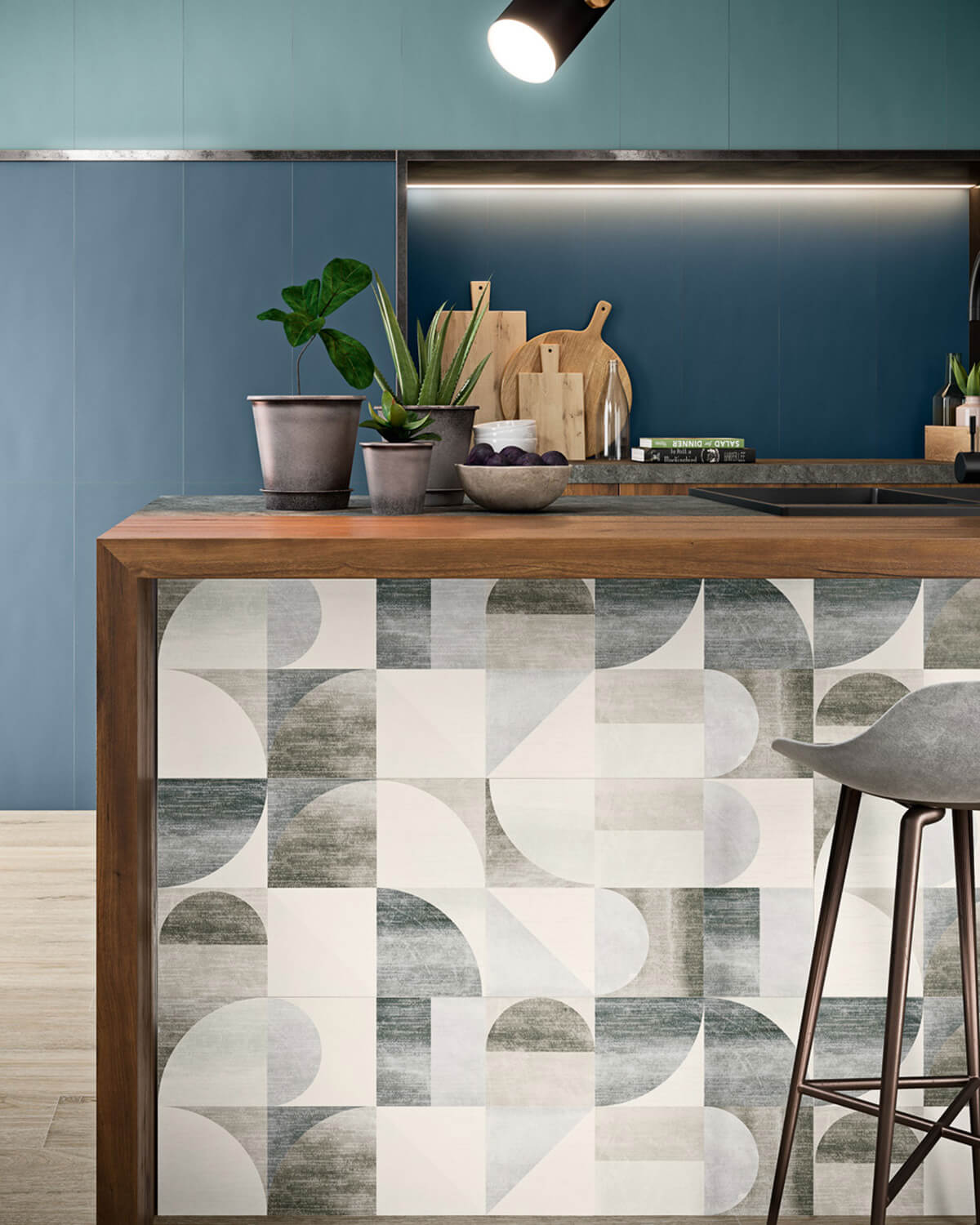 New ceramic collections in kitchens
The decoration of Kitchens has gained prominence in recent years largely due to changes in daily living habits, and decorators and interior designers have had to adapt to new lifestyles and look for new solutions for new living conditions, where more and more people have to live in small flats such as flats, studios or lofts.
But how do you decorate small functional kitchens without losing the battle? The idea is to create space where there is none. It is to squeeze every centimetre to make the design of small kitchens practical and functional in which all our day-to-day needs are covered.
Models of mini kitchens
There are different shapes and models of small kitchens with which we can get an idea of how to design our kitchen:
In this type of kitchens the minimalist style is imposed, clear colours, order, nothing in sight, elegant, original, fun but always uniform, compact. These include avant-garde style kitchens and industrial design kitchens with a clear tendency towards silver and metallic tones.
This type of kitchen requires a little more space but is very practical for storage and as an extra work area, as well as any auxiliary piece of furniture that can be placed in the centre of the kitchen.
These kitchens are at least 2m long, narrow, yes, but very functional. The ideal is to concentrate the distribution of the furniture in line on a single side. White is undoubtedly a great ally, but you can break the monotony of a single colour with original hydraulic mosaic tiles in a small area to add colour.
Such as the small parallel kitchens which, due to their elongated dimensions and although narrow, give you the option of a two-sided design with furniture on both sides.
Where the corner limits the space and complicates the layout. The best thing to do is to opt for what is strictly necessary, without overloading the room with too much furniture.
They are more practical due to their feeling of spaciousness by eliminating partitions and leaving open spaces unifying environments.
In spite of having a reduced space, installing a bar can allow us to join the kitchen to another room such as the living room or dining room or simply give us more additional work areas. It will seem as if our kitchen is more spacious, in the style of American kitchens.
Be faithful to its shape, value its structure by designing small u-shaped kitchens to make the most of every centimetre of its walls.
If your kitchen is small, white is the colour for you, you will make it look bigger, cleaner and tidier.
They are very common with country houses and although their decoration is traditionally linked to wood and rough-looking materials that make their decoration seem vast and overwhelming, they can be softened by using typical materials such as wood or clay in lighter tones and contrasting them with bright and cheerful colours.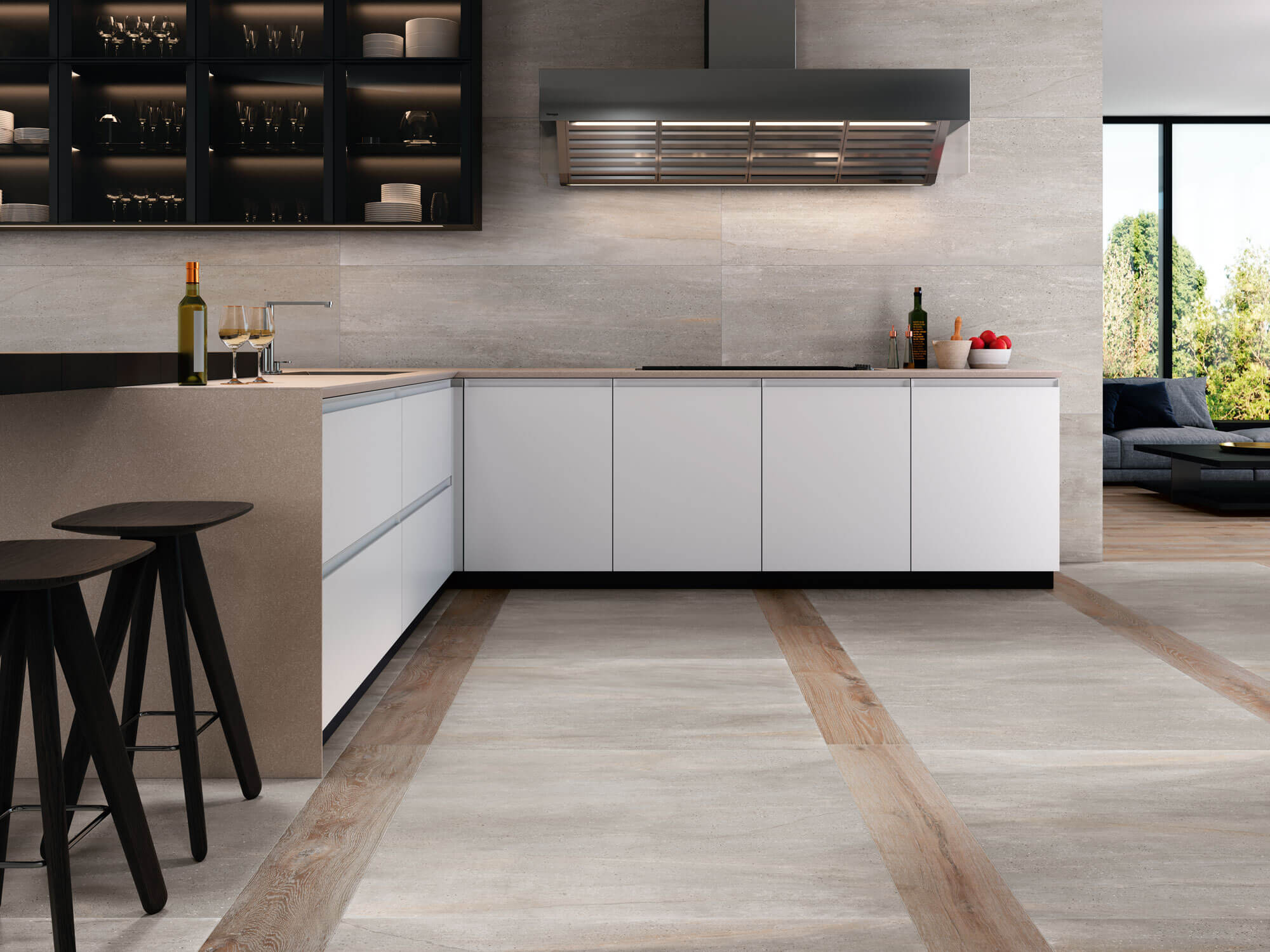 Decorating with floor and wall coverings for small kitchens
Decoration with ceramic tiles for small kitchens 2018-2019 has taken a 180º turn in recent years. Everything has changed, they have gone from being a monotonous decoration with unremarkable and unoriginal square tiles to become a world of creativity, colour and design.
In order to achieve the ideal small kitchen design, it is important not to lose perspective. When faced with a mini kitchen, great solutions. Forget about large-format wall and floor coverings. You will only make your kitchen look smaller.
Las últimas tendencias son:
For the walls, mini tiles such as mosaics or hydraulic tiles, very colourful and decorative, can give that original touch to the decoration of small kitchens which, due to their need to use light tones to give a wider visual effect, counteract the monotony of colour.
And if you thought it was impossible to innovate any further, discover the new metro tiles that are making a strong entry into interior decoration and are perfect for small vintage kitchens.
Recreate yourself using multi-coloured tiles, glossy tiles with bevelled finishes that amplify the light, rustic tiles that use textures to give depth, creating decorative murals.
Todos ellos combinados con baldosas blancas consiguen ese toque original y creativo en las paredes.
In flooring for small kitchens, elongated formats are gaining ground, such as parquet effect flooring that provides a longer and wider visual effect and modernist trendy hydraulic flooring, perfect for small minimalist kitchens. Also use hydraulic tiles to create mosaic tile carpets for an original vintage small kitchen.
With these new formats and creative designs you will find a good alternative for your mini kitchen renovation and you will achieve a successful design.
Photos and images of small kitchens for inspiration
Don't miss the new ideas for small kitchens in our Porcelanite photo gallery, where tiles for small kitchens and decorative flooring take centre stage. You will discover the new trends, such as the two-colour kitchens where using two chromatic tones brings dynamism to the decoration or the multicolour mosaic carpets with unique designs that will make your kitchen exclusive.